The self-taught vocal interface
EURASIP Journal on Audio, Speech, and Music Processing
2014
2014:43
Received: 31 January 2014
Accepted: 27 November 2014
Published: 19 December 2014
Abstract
Speech technology is firmly rooted in daily life, most notably in command-and-control (C&C) applications. C&C usability downgrades quickly, however, when used by people with non-standard speech. We pursue a fully adaptive vocal user interface (VUI) which can learn both vocabulary and grammar directly from interaction examples, achieving robustness against non-standard speech by building up models from scratch. This approach raises feasibility concerns on the amount of training material required to yield an acceptable recognition accuracy. In a previous work, we proposed a VUI based on non-negative matrix factorisation (NMF) to find recurrent acoustic and semantic patterns comprising spoken commands and device-specific actions, and showed its effectiveness on unimpaired speech. In this work, we evaluate the feasibility of a self-taught VUI on a new database called domotica-3, which contains dysarthric speech with typical commands in a home automation setting. Additionally, we compare our NMF-based system with a system based on Gaussian mixtures. The evaluation favours our NMF-based approach, yielding feasible recognition accuracies for people with dysarthric speech after a few learning examples. Finally, we propose the use of a multi-layered semantic frame structure and demonstrate its effectiveness in boosting overall performance.
Keywords
Vocal user interfaceDysarthric speechNon-negative matrix factorisationSemantic frame descriptionCommand and control
1 Introduction
Currently, modern voice control technology is available in many applications such as direct voice input (DVI) in aviation [1], information requests using Siri and speech-driven home automation. Command-and-control (C&C) appliances afford hands-free control, thus enhancing the independence of the physically incapacitated. Unfortunately, speech commands are sometimes misinterpreted when words overstep lexical boundaries and word sequences do not fit the preset grammars. Moreover, C&C appliances frequently fail to interpret dialectic or impaired speech, often encountered with physically challenged people. Consequently, people with non-standard speech are increasingly excluded from the growing market of voice-driven applications. The goal of this work is to investigate a vocal user interface (VUI) model which is able to learn words and grammars from end users, improving accessibility of C&C applications.
Over the past decade, various approaches have been proposed to improve the usability of automatic speech recognition (ASR) for speech-impaired users. For example, in [2]-[4], speaker-independent acoustic models were adapted to speaker-dependent and speaker-adapted models, both providing better recognition of user-specific vocalizations. Besides adaptation, dysarthric speakers also improved the recognition likelihood of their words by training the consistency of their pronunciations [5]-[7]; thus, users can adapt their vocalizations in order to alleviate the ASR shortcoming to cope with severe vocal variability. In [8],[9], the increased phonatory variability associated with dysarthric speech was addressed by a system enabling more suitable hidden Markov model (HMM) topologies for each phoneme in the speaker's repertoire. Another example is [10], where user needs were surveyed and reflected in the design of a VUI for which an isolated word recognition system with a customizable command list and a built-in word prediction function was proposed to improve usability of typical services on mobiles and tablets. Although these approaches resulted in considerable improvements in usability, the accessibility of voice control technology still needs to widen to cater for users with non-standard or impaired speech (see [11],[12]).
State-of-the-art ASR is typically based on HMM acoustic models developed with Gaussian mixture (GMM) continuous emission densities and context-dependent bi- or triphone models with multiple states per model. These language-dependent models are trained on hundreds of thousands of recorded and annotated speech utterances. Some applications in voice-enabled automated home environments use ASR models together with a speaker adaptation procedure to improve ASR performance for specific users or user groups. For example, the DIRHA [13], SWEET-HOME [14] and HomeService [15] projects aim for voice-enabled assistive technology in home environments for people with a physical impairment. In the DIRHA and SWEET-HOME projects, maximum likelihood linear regression (MLLR) speaker adaptation is used starting from a speaker-independent ASR system. In the HomeService project, speaker-independent ASR models were obtained using normal or dysarthric speech followed by maximum a posteriori (MAP) speaker adaptation. These approaches require annotated language-dependent speech material in addition to annotated user-specific speech material. The advantage of the adaptation approach is that the amount of user-specific speech material composes only a fraction of the data required for building a speaker-dependent state-of-the-art speech recognizer. Speaker-dependent data usually requires an enrolment session and automated or non-automated transcriptive resources. Contrary to the adaptation approach, the basic approach here and in the (ALADIN) project (see [16] for an overview) is to build a VUI model that starts from scratch and learns from speech and demonstrations of the end user without transcription. Considering the VUI usability, the training procedure requires the ability to learn from a few examples and should be able to work with easily obtainable annotations such as content or context information. In our language-independent approach, the VUI learns to understand spoken commands by mining the speech input from the end user and the changes that are provoked on a device.
The first aim of the study is to test the feasibility of the learning procedure to construct speech patterns such as words from a few examples and content-related annotations. The speech of the user and the content information entered by the device are two sources of information that we combine by using non-negative matrix factorisation (NMF, see [17]). This procedure allows the VUI to learn co-occurring patterns from two information sources. In [18], we proposed a novel grammar induction technique based on HMM learning and semantic descriptions of commands guiding the learning process. Here, we propose multi-layered semantic structures and implement the semantic dependencies in a parse tree structure. The second aim of the study is to compare the new semantic structure with the ones employed in [18]. For this, we use two databases: one with recordings of normally speaking subjects playing a card game by voice, and another one with commands provoked in a virtual home automation setting for people diagnosed with dysarthria. The first database is referred to as PATCOR, whereas the second one is a new database called DOMOTICA-3. Besides the validation of new semantic structures, we will evaluate the NMF procedure as well by comparing our NMF-based framework with a Gaussian mixture model (GMM)-based baseline system.
The remainder of the paper is organised as follows. In the section 'Language learning in the vocal user interface', we describe the learning framework, including the semantic and acoustic representations as well as the NMF learning procedure. In the section 'Reference model', we describe a reference model employing GMMs instead of NMF. We proceed by describing the databases used for evaluation in the section 'Speech material'. Subsequently, we explain the semantic structure of spoken commands (cf. the section 'Hierarchical knowledge representation') before conducting a series of experiments (cf. the section 'Experiments') where we evaluate the feasibility of our approach and the effectiveness of more layered semantic structure. We present our conclusion and thoughts on a future work in the final section 'Conclusions'.
2 Language learning in the vocal user interface
A schematic overview of the learning framework is depicted in Figure
1
. Here, two different types of data are processed: one processing stream is depicted in the upper part and builds up a
semantic representation
, while the other one, depicted in the lower part, builds up an
acoustic representation
. In the upper processing stream, device-specific functionality is parsed into a semantic
frame description
. The conversion is guided by a hand-crafted
semantic frame structure
as indicated with the dotted arrow pointing towards the arrow leading to the block 'frame description' (cf. the section 'Semantic representation'). The frame description is turned into a
label vector
and passed on to the
NMF
module.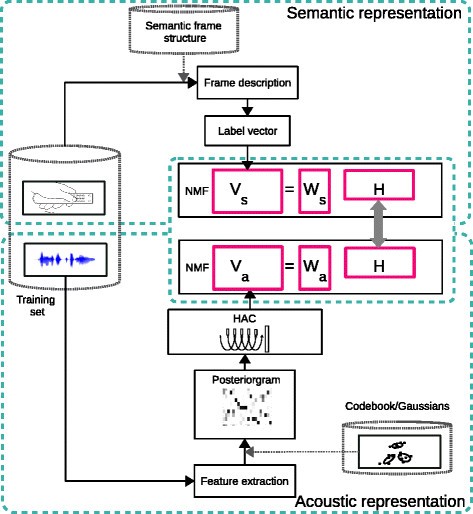 In the lower part of Figure 1 (cf. the section 'Acoustic representation'), spectro-temporal features are extracted and transformed into mel-frequency cepstral coefficients (MFCCs, cf. the section 'Feature extraction'). The MFCC features are converted into a posteriorgram, and the horizontal dotted arrow from the right leaving from the block Codebook/Gaussians indicates that, for this, intermediate procedures like codebook training and clustering are needed (cf. the section 'Codebook training'). The posteriorgram is then converted into an utterance-based representation by using histograms of acoustic co-occurrence (HAC, cf. the section 'Histogram of acoustic co-occurrence'), after which the NMF training takes place. The depicted matrices denoted by H contain column-wise entries for each learning example representing loads on recurrent patterns in the data matrices V s and V a , which are represented by the columns in the depicted matrices W s and W a , with the subindex connoting the semantic or the acoustic stream, respectively. The large bi-directed arrow between the two matrices H indicates that a common matrix is sought for H, and thus common loads on recurrent patterns which are co-occurring between the two data streams. The finding of recurrent patterns, co-occurring between the two data streams, lies at the heart of the learning procedure (cf. the section 'Non-negative matrix factorisation'), where idiosyncratic expressions are parsed and linked to operations on a device. The steps and algorithms are explained with more detail in the following sections.
3 Reference model
We compared NMF learning with GMMs. It is hard to preset the number of GMM components especially when datasets are small and have varying sizes among speakers (see the subsequent section 'Speech material'). Therefore, we investigated four GMMs having 10,20,40 or 80 components fixed for each speaker, respectively, with a diagonal covariance structure instead of a full one in order to limit the number of free parameters. The GMMs were embedded in the architecture of our framework in a similar way as the NMF learning module. At the front end, feature extraction was identical up to and including the posteriorgram step (see Figure 1), after which a scaling step was introduced using the logit function, logp/(1−p), to map probabilities to the real line . Subsequently, utterances in the data with a common semantic entry, i.e. utterances with '1' at a particular position in the label vector v s , were pooled together to compose the training set for GMM estimation of each respective slot value. Thus, for each label entry in v s , there is one GMM predicting the presence of the respective slot value in the decoding phase. Similar to the NMF activations (see the section 'Activation'), the posterior probabilities are committed to the same decision process (cf. the section 'Decision process'). It should be noted that GMMs do not capture temporal dependencies while HACs do. A GMM can be conceived as a HMM with one state per slot value. By using a HMM with multiple states and tuning transition probabilities, temporal relations among the acoustic features can be captured. However, it is evidenced in [28] that GMMs outperform HMMs in feasibility for small training sets.
4 Speech material
Similar to [18], two datasets are employed. The first dataset is PATCOR containing recordings of ten speakers playing a solitaire card game by voice. The second dataset is a recent recorded dataset called DOMOTICA-3 dubbing its precursor DOMOTICA-2 employed in [18]. The utterances consist of commands controlling a home automation system by voice.
PATCOR
In order to provoke commands in a natural human-machine-like interaction, a wizard-of-Oz setup was employed for five players as indicated in column 4 of Table 2. In a wizard-of-Oz setup, a subject is deceived to believe that the machine is able to commit responsive behaviour, while in reality, the administrator is taking care of the responsive actions of the machine. The five other players in PATCOR were committed to the same procedure; however, they were told that the administrator took care of all the actions.
Domotica-3
The DOMOTICA-3 database contains Dutch dysarthric speech commands related to home automation. A typical DOMOTICA-3 utterance is 'turn on the kitchen light'. The dataset contains recordings of the speakers that participated in the collection of the DOMOTICA-2 dataset in [18].
The database contains speech recorded in realistic environments with two microphones. One microphone was a head-worn set C520, and the other one was a RØDE M2 live condenser microphone, which was located in front of the speaker on top of a table at about 50 to 100 cm. The recordings were held in a room selected in the respective health care centre of the patient which ranged from quiet to some background speech. The recordings were carried out with a sampling rate of 48 kHz and a resolution of 24 bit for each channel, after which it was downgraded to a sampling rate of 16 kHz and stored as such in the corpus. The recordings of speakers 33 and 40 barely reached voice activation levels because the directed microphone of the headset was too far out of reach; however, the recordings on the second channel did succeed.
5 Hierarchical knowledge representation
An optimal structure depends on different factors like the number of decision steps in the recognition process (cf. the section 'Decision process') and the complexity for each decision depending on the number of alternatives. These factors are not independent from each other. For instance, an ordered tree with more levels will induce more decisions, but with lower complexity. Semantic structures allowing for overall simple decisions improve slot value perplexity. In this study, we explore the influence of the semantic frame composition on the recognition performance by considering two different frame structures employing different hierarchical levels and decision rules.
We will investigate two approaches for the validation of frame structure on the database PATCOR; one is the compositional standard shown in Table
3
and employed in [
18
], and the second one is a hierarchical semantic frame structure with one additional level shown in Table
6
. The decision rules for each layer are listed in the column headings. In the standard description, commands are decomposed into parts such as suits, values and columns. In the
compositional
structure, a selective rule is used to compare the activations of alternative slots against a threshold. Known information is left unexplored like for example the impossible co-occurrence of a card moved from the hand and from the foundation. A second structure is called
hierarchical
referring to more levels in which slots contain slots or values. Such a structure alleviates the decision step as the number of alternatives is limited in each layer with no more than two alternatives in selective decisions.
Table 6
Semantic frame descriptions for PATCOR - hierarchical
| Frame | Slot | Slot | Slot | Value |
| --- | --- | --- | --- | --- |
| (exclusive) | (selective) | (exclusive) | (selective) | (exclusive) |
| Dealcard | - | - | - | - |
| Movecard | < from > < from > | < card > < card > | < suit > < suit > | c,d,h,s c,d,h,s |
| | | | < value < value > | 1-13 1-13 |
| | | < foundation > < foundation > | - | 1-4 1-4 |
| | | < column > < column > | - | 1-7 1-7 |
| | | < hand > < hand > | - | - - |
| | < target > < target > | < card > < card > | < suit > < suit > | c,d,h,s c,d,h,s |
| | | | < value > < value > | 1-13 1-13 |
| | | < foundation > < foundation > | - | 1-4 1-4 |
| | | < column > < column > | - | 1-7 1-7 |
For the DOMOTICA-3 dataset, we employ even more distinctive structures on the semantic representation. The first structure entails the mapping of entire spoken commands to frames without slots or values, leading to a scenario where the machine learning problem reduces to a multi-class paradigm, that is one class for each possible command. Clearly, such a mapping is unattainable for sets with complex commands as in PATCOR, but for a small set of commands, modelling entire utterances is a viable option. Note that such a structure is less robust to word order variation, and alternative expressions of the same command as utterances are learned in their entirety. We compare a semantic frame structure with commands modelled in their entirety with a compositional approach which parses commands into parts such as objects and actions [18]. This semantic frame structure is shown in Table 1. The values 1 to 6 refer to objects or devices such as kitchen lamp or bathroom door. Once again, we expect improved performance for the multi-layered frame structure since selective rules are used for layers holding only two slots, while multiple alternatives are gathered in levels with exclusive rules.
6 Experiments
The goal of the experiments is twofold: first, we test the feasibility of our VUI by evaluating the performance of the framework using the F-score on slot value recognition as defined in [18]; furthermore, we investigate the added value of using a more layered semantic frame structure on two datasets: PATCOR containing commands having a complex grammar and DOMOTICA-3 containing realistic recordings of commands from speech-impaired speakers in the setting of a virtual home automation system.
An important feasibility issue is the speed of learning, which we evaluate by tracking the gain in slot value recognition for incrementally increasing training sets. This procedure allows us to plot a learning curve, that is, the curve representing the average slot value recognition score in function of the average number of learning examples. The rate of learning is usually sharpest in the beginning and gradually evens out against an asymptotic level. We are especially interested in the initial and final phase of the learning curve; on the one hand, the speed of learning should be high so users gain interest in keeping on using the VUI, thus keeping on training the system; on the other hand, the learning curve should not level off to low, that is, the VUI should not get stuck in suboptimal functionality in the long run. Clearly, the speed of learning and the asymptotic performance are important attributes of a useful learning procedure.
6.1 Setup
6.1.1 Evaluation procedure
The data was partitioned in blocks containing approximately an equal number of slot values using an algorithm outlined in [18]. This algorithm minimises the Jensen-Shannon divergence between the slot value distributions over all blocks. Likewise [18], block creation was followed by the composition of a Latin square from which the first five rows were submitted to a fivefold cross-validation experiment. In each fold or row of the Latin square, the first x blocks were used as train set while the remaining Z−x blocks were used as test set with Z as the total number of blocks. While the train sets increased incrementally with one block, x=1,…,Z−1, the test sets decreased decrementally with one block. The incrementally increasing training sets allowed us to evaluate the learning performance at different time stamps in the learning process of the VUI. The slot values that appeared in each block at least once were used for scoring in the test sets. Note that the real performance of the vocal interface also depends on the interface's ability to distinguish between commands and other utterances spoken in a domestic environment. Here, we focus on the rate of learning assuming a perfect classification of commands directed to the system against utterances that were not.
For the evaluation of the framework, we excluded the speaker without PID number in Table 2 in PATCOR and speakers 32 and 47 in DOMOTICA-3, due to data insufficiency for block creation. In addition, we created two groups for the DOMOTICA-3 corpus in order to evaluate the feasibility of the framework. Speakers 29,30,33,41 and 46 have an intelligibility score below 75 and uttered less than 200 commands. We refer to this group as severe dysarthria. Note that an intelligibility score higher than 85 is not considered pathologic. Speakers 17,28,31,34 and 35 were joined in another group because they uttered more than 200 commands allowing us to track the performance of the system in the long run.
6.1.2 Parameters
We used pre-emphasis (α=0.97, sampling rate at 16 kHz) and Hamming windowing with 30-ms frames in addition to a frame shift of 10 ms. Fourteen cepstral dimensions were retained, and the first and second order differences were appended, leading to 42 feature dimensions. Silence frames were removed before the codebook training started, aiming for K=100 clusters from which posteriorgrams were obtained with 100 entries. The main portion of the probability mass in a frame seems to originate from only a few clusters; therefore, we retained only the three highest probabilities in each frame in order to gain computational efficiency by using sparse matrices HAC features. We stacked C=4 HACs with delays τ=2,5,9 and 20 resulting in 4×1002=40,000 entries for each utterance-based acoustic representation v a .
H
init
and
W
init
denote the initialisation of
H
and
W
, respectively,
with D being the largest integer smaller than 0.2×R; hence, by way of example, for R=40 slot values, D=8 extra columns were added to W. This proportion was constant for all experiments. The parameters λ,γ and θ were set to 1e−4,0.1 and 0.2, respectively. All entries in A,B,O,P and Q are i.i.d samples from the uniform distribution with boundaries (0,1). I is the identity matrix and 1 is a matrix with all ones. The columns of W were normalised to sum to one throughout the multiplicative updates to prevent drift towards large numbers reducing the cost function.
6.2 Results and discussion
6.2.1 Feasibility
Results on
DOMOTICA-3
are shown in Figure
4
as a function of the number of learning examples in the training set. The depicted results concern recordings on the field microphone. The F-scores for the more severe dysarthric group are depicted in the upper panel. The plotted numbers are the PIDs of the speakers (see Table
5
) with circle-shaped lighter and darker gray background colours indicating the NMF-based and the 80-component GMM approach, respectively. When we compare GMM-based learning with NMF-based learning in the upper panel, we observe steeper learning curves for the NMF-based learning for the group of severely dysarthric speakers, yielding an average improvement of 23
%
(
t
(159)
=30.2,
p
<0.001). Moreover, a similar trend can be observed in the group with more training material depicted in the lower panel of Figure
4
, yielding an average improvement of 20.2
%
(
t
(159)
=38.5,
p
<0.001) by using the NMF-based approach.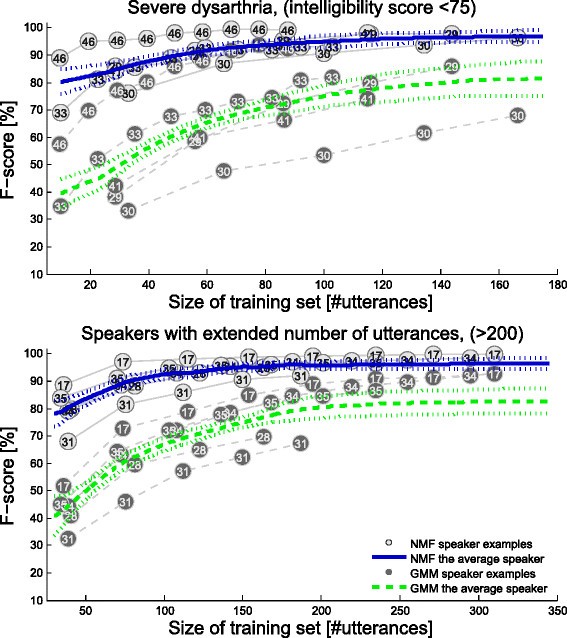 We used the non-parametric method in [30],[31] to estimate a smooth learning curve for each speaker using the locally weighted scatterplot smoothing (LOWESS) procedure. Optimal smoothness parameters were found by cross-validating different smoothness values between 0.4 and 0.8. We plotted the learning curve for the average speaker using a full blue-coloured and a dashed green-coloured line to indicate the NMF-based and the GMM-based scores, respectively. Furthermore, we constructed 95% confidence limits by bootstrapping the LOWESS procedure, and we indicated these bounds by dotted lines. The curves provide an indication of how the average speaker is expected to perform.
When comparing F-scores, the gain by using NMF learning is higher in the beginning of the learning curve, up to 40
%
absolutely on average, as can be seen from the difference between the full and the dashed-line averaging curve. For the group with severe dysarthria, we observe that the NMF-based approach yields a score close to 80
%
on average after only one repetition. For instance, speaker 33 has an intelligibility score of 66.2 and yields an F-score of 70
%
after one repetition and 96
%
after nine repetitions. Moreover, some speakers yield scores close to 100
%
after a few repetitions, like for instance speaker 17 depicted in the lower part of Figure
4
obtaining a score above 99
%
after four repetitions only. Note that the results using the headset recordings are similar as can be seen in Table
7
. These results are very promising, especially for dysarthric speakers, as both the learning rate and the accuracy are already in a range that is usable for a vocal interface. Moreover, all learning curves that did not reach a ceiling performance at the end are still rising, indicating that with more learning examples, the accuracies will probably further improve.
Table 7
F-scores after 40 and 120 training utterances for DOMOTICA-3
Speakers

Average

17

28

29

30

31

33

34

35

37

40

41

43

44

46

48

GMM 10

60

51

53

41

43

58

52

53

62

43

53

88

45

83

77

57.5

GMM 80

53

45

47

34

34

65

46

49

56

37

46

87

37

81

79

53.1

NMF

90

69

83

82

71

87

76

83

84

73

77

99

75

96

98

82.9

Compo-

sitional

N=120

GMM 10

75

66

66

51

52

67

68

66

69

57

66

88

75

88

85

69.3

GMM 80

80

65

76

56

59

82

74

73

79

69

68

97

78

96

93

76.3

NMF

99

88

90

93

86

93

91

94

94

92

96

100

99

97

99

94.1

DOMOTICA-3

RØDE M2

Flat

N=40

GMM 10

43

37

43

23

25

41

38

43

48

29

35

78

62

73

66

45.6

GMM 80

24

19

27

18

12

45

23

31

42

16

28

84

57

75

74

38.3

NMF

88

72

80

76

63

78

79

81

77

71

68

99

98

96

98

81.6

N=120

GMM 10

65

55

65

39

39

48

61

57

51

51

48

91

88

82

81

61.4

GMM 80

65

50

74

49

35

67

59

61

65

53

60

97

97

85

87

66.9

NMF

98

83

95

94

78

85

90

89

88

86

93

100

100

100

99

91.9

N=40

GMM 10

58

45

54

42

42

40

45

53

60

35

56

87

59

86

82

56.3

GMM 80

54

42

49

37

33

51

46

49

58

31

50

87

54

82

82

53.7

Compo-

NMF

89

80

89

80

69

79

80

85

86

60

88

99

90

96

98

84.5

sitional

N=120

GMM 10

74

56

69

48

52

43

63

69

65

46

69

87

74

90

88

66.2

GMM 80

79

65

79

57

58

70

74

75

79

55

75

97

89

96

92

76

NMF

98

92

97

92

86

92

94

96

95

87

98

100

99

99

100

95

DOMOTICA-3

headset

Flat

N=40

GMM 10

41

29

39

24

24

25

36

41

45

25

37

82

70

73

75

44.4

GMM 80

27

18

32

18

13

31

23

30

38

11

30

85

59

75

74

37.6

NMF

88

79

90

78

63

66

83

87

79

52

84

98

98

98

99

82.8

N=120

GMM 10

64

48

67

45

38

32

57

55

48

38

61

80

89

80

80

58.8

GMM 80

70

45

73

52

39

52

61

58

64

39

63

96

97

82

89

65.3

NMF

98

88

97

94

82

92

94

92

92

74

98

100

100

100

100

93.4
6.2.2 Semantic structure
Here, we compare the results for NMF-based learning using two different semantic frame structures on the
PATCOR
database depicted in the upper panel and the
DOMOTICA-3
database depicted in the lower panel of Figure
5
. When comparing F-scores for the hierarchical and the compositional frame structure in Figure
5
, we find a small but significant overall improvement for using a hierarchical frame structure instead of a compositional one, i.e.
t
(179)
=12.4,
p
<0.001, with an absolute average improvement in F-score of 3.3
%
. The improvements are fairly consistent among speakers despite the fact that the individual scores for the PATCOR database are wide ranged. The scores are wide ranged because speakers 3,5,7 and 8 frequently used the words 'red' and 'black' instead of 'hearts', 'spades', 'clubs' and 'diamonds'. While the use of colours such as 'red' and 'black' allows the VUI to distinguish 'clubs' and 'spades' from 'hearts' and 'diamonds', it will not allow to learn the difference between the two black or the two red card suits. Since 40
%
to 50
%
of the words in the move commands consisted of words referring to the card suits, a drop in overall F-score is observed because the incorrectly recognised card suits are counted as false positives despite the fact that the user did not provide this information in the VUI training. As can be seen in the upper part of Figure
5
, there is a considerable gap between the learning curves of speakers 3,5,7 and 8 using the words 'red' and 'black' and speakers 2,4,6 and 9 who all preferred the consistent use of the words 'clubs', 'spades', 'hearts', and 'diamonds'. Another reason for the wide-ranged performances is that some users tend to use a lot of synonyms, which we did not anticipate in the NMF-based approach here. More results on the PATCOR database, including results on GMMs, are listed in Table
8
. Note that GMMs with more compounds perform better if there is enough data to adequately fit all free parameters as can be seen in Tables
7
and
8
when comparing GMM scores for small datasets (
N
=40) against large datasets (
N
=120 or
N
=175). As can be seen in the tables, the GMM with 80 components demonstrates better performance than the GMM with 40 components for
N
=175, but not for
N
=40. These tables include GMM scores for 10 and 80 components. The GMM results for GMMs with 20 and 40 components are not reported here because these scores are similar to the 80-component GMM scores.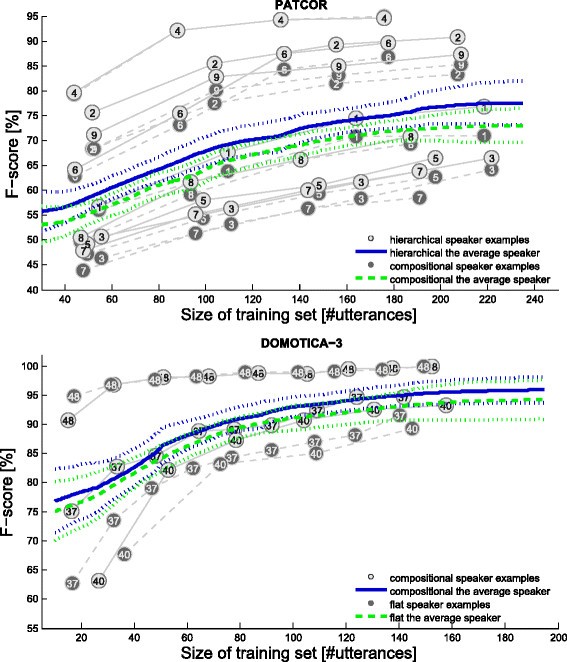 Table 8
F-scores after 40 and 175 training utterances for PATCOR
Speakers

Average

1

2

3

4

5

6

7

8

9

PATCOR

N=40

GMM 10

38

46

35

49

36

45

34

36

51

41.1

GMM 80

40

43

38

47

37

43

33

38

46

40.6

Hierar-

NMF

55

73

50

79

47

64

47

49

69

59.2

chical

N=175

GMM 10

38

46

35

49

36

45

34

36

51

41.1

GMM 80

54

71

44

70

46

58

40

43

62

54.2

NMF

78

91

63

95

63

90

62

68

87

77.4

N=40

GMM 10

41

47

35

49

36

45

34

36

50

41.4

GMM 80

39

43

38

48

37

42

32

38

46

40.3

Compo-

NMF

53

66

45

79

46

63

42

49

66

56.6

sitional

N=175

GMM 10

41

47

35

49

36

45

34

36

50

41.4

GMM 80

54

66

44

70

45

62

40

47

61

54.3

NMF

72

83

61

95

62

87

58

69

85

74.7
The corresponding results for the DOMOTICA-3 database are depicted in the lower panel of Figure 5, displaying a positive, though, non-significant statistical tendency in favour of the compositional frame structure, i.e. the more profound structure compared to the flat one. The average speaker plot represents scores of all 15 speakers in the database, though the varying range of results is exemplified by three speakers only for reasons of visibility. A considerable number of speakers yield high F-scores in the beginning while other speakers yield lower F-scores in the beginning, but a steeper rise towards the end, as demonstrated by speakers 48 and 37, respectively. The non-significant statistical tendency is probably caused by the ceiling effect, in which a considerable number of speakers have maximum scores for both conditions, making discrimination between conditions more difficult. We verified this explanation by running the same analyses for the overall lower GMM scores, using the same blocks, speech material and semantic structures. When comparing the flat and compositional frame structures, we found a considerable average improvement of 19% after one training block, t(74)=9.8,p<0.001, and 7% for the maximal number of training blocks, t(74)=3.6,p<0.001.
We probably obtain a good performance using a flat semantic structure, because the NMF-based acoustic representation is sufficiently distinctive to set each command apart. As a consequence, the more elaborated semantic frame structure becomes redundant. However, when the GMM-based processing flow provides less distinctive representations, information contained in the semantic frame structure becomes vital to the decision process. Nevertheless, overall results are in favour of the hierarchical approach, confirming our hypothesis that using additional knowledge in the form of a hierarchical semantic frame structure is an effective method to boost performance.
7 Conclusions
This work presents results on the recently recorded dysarthric speech database DOMOTICA-3, with speech intelligibility ranging from normal to severe dysarthric levels. Our NMF-based framework yields 90% to 100% F-score for all speakers, with typically 70% F-score after a single example. These scores validate the use of NMF-based learning as the basis for a self-taught vocal interface for normal and dysarthric speech.
The results on PATCOR and DOMOTICA-3 demonstrate higher asymptotic F-scores by using a more advanced semantic frame structure. The lower scores for the patience card game players, using words like 'red' and 'black' instead of anticipated semantic suit concepts, further confirm the importance of using a semantic structure with more levels similar to categories used in humans. However, the mismatch in user concepts and the concepts that designers had in mind in their applications is considered a weak aspect in our framework in spite of its overall strength. Therefore, we will focus on generic procedures in future work to induce a proper semantic structure. Moreover, further improvements are expected from embedding an algorithm to detect synonyms as alternative referents to the device slot values.
The hierarchical semantic frame structure was superimposed by a decision tree dominating decoded NMF activations. This decision stage can be integrated into the NMF procedure by using group sparsity [32] which obviates the need for a back-end decision stage in future work. All these moderations will boost performance, bringing us one step further in the design process towards a self-taught non-standard speech interface.
8 Endnote
a Note that frames without slots should have a corresponding entry in a, which determines the activation scores of the empty slot value.
Declarations
Acknowledgements
The research in this work is funded by IWT-SBO grant 100049.
Authors' Affiliations
(1)
Department ESAT-PSI, KU Leuven, Leuven, Belgium
Copyright
© Ons et al.; licensee Springer. 2014
This article is published under license to BioMed Central Ltd. This is an Open Access article distributed under the terms of the Creative Commons Attribution License (http://creativecommons.org/licenses/by/2.0), which permits unrestricted use, distribution, and reproduction in any medium, provided the original work is properly credited.